METROPOLE produces life-size Triceratops in Paris using Massivit 3D Printing
Bringing History to Life
Denise Zanet, Executive Partner at METROPOLE says: "When it comes to creating giant attention-grabbing models that really turn people's heads and captures their full attention, our Massivit 1800 is the solution of choice."
 
Due to the Massivit 1800's print speed of up to 35cm / 14'' per hour and dual print heads, METROPOLE met the museum's tight deadline by producing the triceratops in just 8 components. Once the dinosaur was assembled, METROPOLE strengthened the construction with ballast to ensure the dinosaur's longevity during its interaction with the public environment. To guarantee even greater lifelikeness, METROPOLE's cinematic artistic team covered the dinosaur with a textured surface to attain its natural-looking skin and they also produced realistic eyes to further enhance its authentic appearance.
 
Denise continues: "The Musée national d'Histoire naturelle was blown away by how realistic our 3D printed triceratops looks. It is already producing a huge buzz at the train station with many people asking how it was created and seeking more information."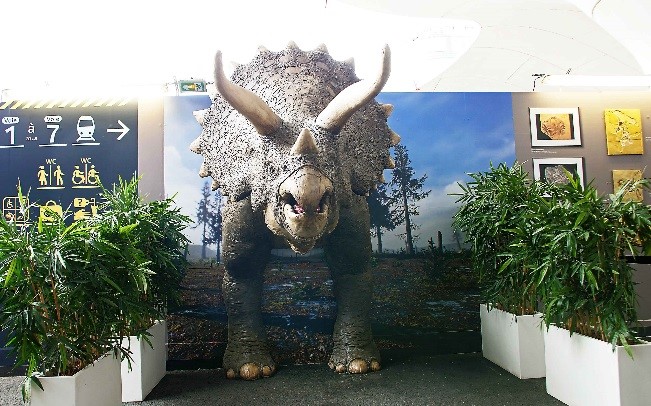 Securing Repeat Business
According to Denis, France's leading transport company SNCF Gares & Connexions approached METROPOLE after its collaboration and triumph of last year's Corto Maltese campaign. The company produced a life-size replica of Italian comic book adventurer in celebration of the series' 50th anniversary.  
 
Denise explains: "Gares & Connexions were so stunned by the huge success and interaction that the 3D printed replica produced that they recommended us for this campaign. This is a huge testament to the strong customer engagement and brand awareness that can be achieved with our Massivit 1800."
 
The spectacular triceratops will continue to wow the public during the palaeontology exhibition until 2nd September 2018.
Massivit 3D Printing announced that its customer METROPOLE has created a remarkably realistic full-size triceratops to promote a new palaeontology exhibition at the Musée national d'Histoire naturelle in Paris.